Artworks by Matt Calderwood
Grey Area works closely with artists, inviting them to come up with ideas especially suitable for production as a limited edition contemporary artwork. The development of the artworks is driven primarily by the artist. Through conversation with the artist and testing of materials and processes we focus in on the possibilities of the idea and how it can be best conveyed given the array of technology available.
2012, edition of 20 (plus 5 Artist's Proofs)
€600 each, framed
Image size: 600mm x 420mm
Framed work size: 670mm x 490mm
Materials: Gloss paint on paper in wooden frame.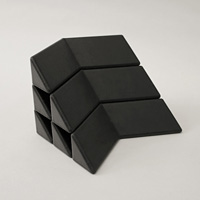 2010, edition of 250
€600 for a set of 6
Each element: 180mm x 100mm x 45mm
Overall dimensions variable.
Materials: Set of 6 cast natural rubber shapes, a recycled card box and a folded 40 x 50cm pigment print on recycled paper.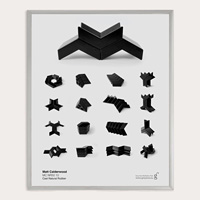 2010, open edition
€120 framed
Image size: 400mm x 500mm
Materials: Inkjet print on recycled paper in aluminium frame.