Artists
Grey Area works closely with artists, inviting them to come up with ideas especially suitable for development and production as a short run multiple. The development of the works is driven primarily by the artist. Through conversation with the artist and testing of materials and processes we focus in on the possibilities of the idea and how it can be best conveyed given the array of technology available.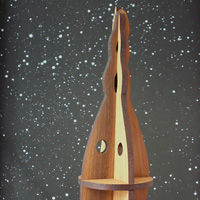 Guy Allott
Lives and works in London.
Guy has worked with Grey Area for several years. He continues to create paintings, prints and sculpture featuring his trade-mark robots, spaceships and wild animals. These include the fascinating sculptural spaceship work 'Across the Universe' created with grey area, and his recent Robots woodblock print series which are both engaged in an unclear world of contradictions looking at a future that might be and harking back to various pasts, both fondly and with trepidation.
Matt Calderwood
Lives and works in London.
Matt is an artist who has shown extensively internationally. His rigorous thinking process starts with investigation into unpredictable areas and always results in uncompromising, unexpected, completely consistent artworks where every element of the work is relevant, where every element has it's purpose. This is a subtle trademark of Matt's work which is emphatically present in both his sculptural and print works.
See artworks by Matt Calderwood
Richard Galpin
Lives and works in London.
Richard Galpin turns his usual creative process on its head by obscuring the original photograph with a carefully refined computer-cut vinyl mask in this edition for Grey Area. This creates an intriguing interplay between the high gloss surface of the underlying photograph and the sharp, mechanical, semi-matt quality of the mask. There are two surfaces at work, fighting for prevalence.
See artworks by Richard Galpin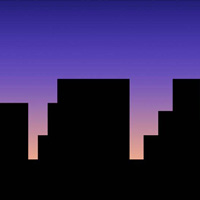 Simon Ripoll-Hurier
Lives and works in Paris.
Simon has created a series of 6 new edition digital prints which play with ideas of representation and perception of big brand subtlety. The infectious background presence of major movie studios' role in our lives and the indelible power of the theme tune. In this series Ripoll-Hurier translates the signature tunes of the 6 major studios into brutalist skylines by simplifying their waveform and placing it in front a romantic if slightly ludicrous graduated sunset.
See artworks by Simon Ripoll-Hurier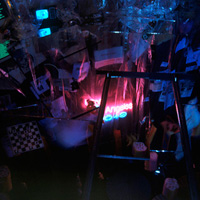 Samuel Levack & Jennifer Lewandowski
Live and work in London.
Samuel Levack and Jennifer Lewandowski's multi-disciplinary practice encompasses installation, digital video, painting, music, performance and sculpture. They consistently work in the realm of performance and installation, engineered to both engage and perplex the public. In most of their work there is flow of symbolism and information, and a complex web of oblique and direct references to mysticism, shamanism, ceremony, dance, history and very often with a significant cinematic reference point.
See artworks by Samuel Levack & Jennifer Lewandowski
Samuel Levack & Jennifer Lewandowski CV
Nick Laessing
Lives and works in Berlin.
An artist with an insatiable desire to research and refine the communal principals of antiquated and advanced technologies. His work includes a series of prints relating to the continual development and refinement of the Free Energy Machine, a technology that might just offer the possibility of endless, clean energy. These beautiful and intriguing machines offer a satisfying sculptural aesthetic driven by a functional necessity that remains quintessentially art.
Katie Goodwin
Lives and works in London.
Katie is a London based British-Australian artist who has exhibited in the UK and internationally. She was selected for Bloomberg New Contemporaries 2011 and is the the winner of Wimbledon's Jealous Print prize residency 2011 and the Welcome Trust Arts Award 2013. She works extensively with film, often reworking found footage to produce short films and prints.
Ryan Boatright
Lives and works in Paris.
Ryan Boatright is a visual artist based in Paris, France. His projects are crafted from a blend of technical and conceptual processes that evaluate domestic experiences, the environments that shape them, and the pictures that document them. His interests in snapshots and the science of photography also lead him to examine the role of photography in the mainstream and to investigate the medium's ability to measure reality.
See artworks by Ryan Boatright
O.W.P
Lives and works in Barcelona.
Most of O.W.P's work is about ways of decoding groups of information. The artist intentionally sets up a situation where different elements first appear quite unconnected but by asking a few questions and with a little lateral thinking we can discover how they relate to one another in bizarre and often hard to fathom ways.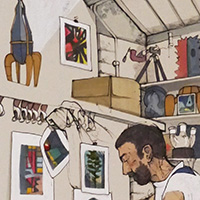 Sophie Glover
Lives and works in London.
Sophie Glover is an artist who can really draw. Her ongoing 'Studios' series involves her visiting creative spaces whether it be artist studios, ateliers, printing spaces or a taxidermists workshop. She sits herself in the corner, pulls a biro from behind her ear, and starts drawing the space and the array of interesting objects within. She creates a structured, framed environment to accommodate the key part of the image. As people move around the space, getting on with their creative practices, Glover captures their posture and their gestures as they pause to discuss the focus of their work, often returning to the same point several times, leaning on a workbench or overseeing the work of others.